#Momslens On Sharing Travel Experiences With Your Kid
No one can argue that moms are somewhat superhuman, they balance many things—including raising and caring for us for 18 plus years (special emphasis on the "plus"). For new moms reading this, you can probably now understand why your mom was so worried when you went outside without a sweater, when it was CLEARLY just a fall afternoon. You can probably understand A LOT more things now. For the rest of us, it can be hard to understand why mom does what she does—especially when you were just an 8 year old asking for "10 more minutes" of TV (or Ipad, for our new Centennial generation)
Also, like we learned in our previous post, moms come in many forms, but they will have unconditional love for you; even if you are four-legged cat-sounding little creature. So as Mother's Day nears, we're excited to bring a series that gives a #momslens perspective on their stories (and travel experiences!!)
For our second insight into #momslens we're sharing the story of Terra Purpura Hakam. We asked her a few questions about her latest traveling experience in Indonesia, see below!
What is your favorite part of being a mom?
Traveling! Actually, traveling as a mom is even better than I could have imagined. I was nervous about the way my life would change once I had a kid. Travel has always been very important to me and I didn't want to have to stop exploring the world. I have a goal to visit 40 countries before I'm 40. I'm already at 28! When my husband and I decided to have a child we both agreed that travel had to remain a priority. However, it definitely seemed terrifying to get on a plane with a baby, but it has surprisingly always been a positive experience. We've had nothing but positive experiences flying since becoming a family of 3. Our daughter was 2 months old when she took her first flight and 1 year when she took her first international trip. In the past 3 years she has been on over 30 flights including trips to France, Spain, and Thailand!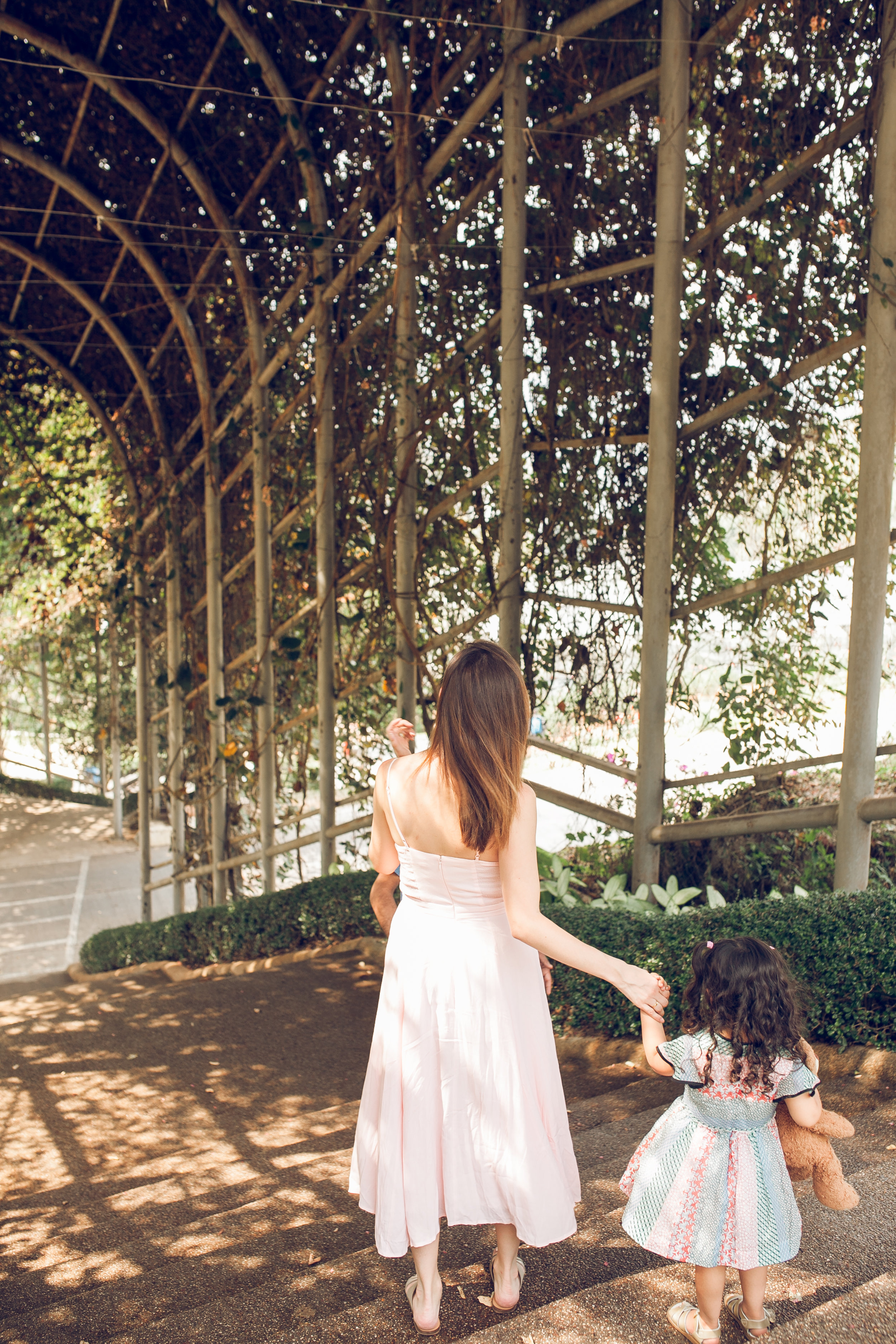 "Since traveling with my daughter my husband and I have learned to slow down and enjoy the more simple moments of traveling."
Traveling with her has been the greatest gift. It provides us with uninterrupted and extended family time, at the same time it has really instilled a thirst for exploration and new experiences in our daughter. Seeing the world more through eyes has also been an incredible lesson for me. She takes such joy in the smallest moments of our trip. Forget seeing the Royal Palace or the Reclining Buddha in Bangkok, her favorite memory is riding in a Tuktuk and eating sticky rice with bananas in the park. She could have cared less about the Notre Dame in Paris but she still remembers the nice security guard there who taught her how to make bird noises. Since traveling with my daughter my husband and I have learned to slow down and enjoy the more simple moments of traveling.
We noticed you traveled with your daughter to Chiang Mai! How was your experience? Tell us a story!
Thailand is such an easy place to take children. The city caters to tourism heavily and the Thai culture really values children. Everywhere we went our daughter was spoiled rotten with little gifts and extra treats. One of the highlights for me was a cruise we took in Krabi. Seeing my daughter fearlessly jump into the open ocean, swimming with fish, and pretending to be a pirate will be a moment I never forget. In Chiang Mai she was most excited to see the elephants at the sanctuary. It was a full day excursion and after waiting months for the trip, she ended up playing with the elephants for 15-mins and sleeping the in my husband's arms for the remaining 4 hours of the activity. I was super bummed because she was so looking forward to it but It's been 3 months since the trip and those 15-mins are still one of the highlights of the trip for her.
You and your family travel often, how do you guys prepare for your trips?
Well first, traveling with kids is not as difficult as it may seem. We always start engaging with our daughter about our chosen destination a few months in advance. We try to get as many kids books about the country and its culture and read them together. We will watch travel shows about the location with her and go to restaurants that serve traditional cuisine. We also let her pick a few things to do in each city we're visiting, that way she feels like she helped plan the trip. In Thailand she picked A Unicorn Themed Café and visiting the Elephant Sanctuary. She also decided she wanted to try eating bugs!
Also, we've learned to roll with the punches better since we began traveling with our daughter. I used to get so frustrated when things didn't go as expected while traveling now I just shrug it off. Stella cried the entire time we were at Park Guell in Barcelona, turns out she is not a fan of Gaudi! We ended up only seeing half of the park and then leaving but it ended up being one of my favorite days in Barcelona. We stumbled upon a sweet little Tapas Bar and ate and drank for 3 hours straight while we colored and people watched with our daughter.
Was there a special occasion for your Shoot My Travel Photoshoot?
Years ago, my husband and I agreed that instead of buying souvenirs on big vacations, we would have photos taken as often as possible when exploring a new city. Also, we consider every family vacation a special occasion, and Thailand had been on our destination list for a long time.
We were thrilled to find SMT to capture some of our time there. I actually used to find local photographers through social media, but I was always nervous that it wouldn't work out, or that the language barrier would mean what I thought I was going to get and what I actually got would be two very different things. Having a service like SMT has made it easier for me to connect with professionals in our destination and to have a guarantee behind the product we will receive when everything is said and done. I am so happy we have continued the tradition now that we have our daughter Stella. I love having photos of the three of together all over the world.

What is an advice you would give moms who love to travel?
My biggest advice to moms is to keep doing what you love. Your kids are happiest when they see you happy and sharing the things you love most with your child is such a gift.

We are currently planning a trip to Ghana in 2019 and will totally be looking to have photos taken again on that trip!